The Netvoice service is the ideal solution for companies seeking the functionalities of a traditional switchboard and the benefits of IP voice and video solutions, all combined in a single platform.
The Netvoice platform is accessed through a virtual private network that ensures information is kept secure. The implementation of this solution lets companies cut their operating costs, since dedicated resources are made available, calculated on the basis of each organisation's specific needs.
The solution is compatible with an extensive range of equipment, such as IP telephones, smartphones, tablets and softphones, so that all areas of your company will be connected to each other. Manage the platform autonomously, eliminate hardware maintenance costs and centralise all of your corporate information.
The solutions are tailored to customers' needs and can be made available, with no minimum binding period, for lengths of 12 or 24 months.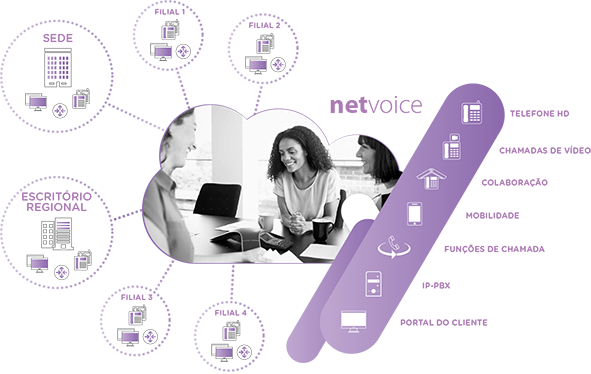 Are you familiar with the benefits of the Netvoice solution?
FREE CALLS
Free calls between users of the service.

NO INITIAL INVESTMENT
Exchange your communications infrastructure without the need for costly investment.
HIGH RELIABILITY
Benefit from a robust infrastructure, with high reliability and availability figures.
MULTI-USER ONLINE MANAGEMENT
Benefit from centralised management through a secure and exclusive portal.
COMPATIBLE WITH YOUR EXISTING INFRASTRUCTURE
Keep your current switchboard and add the IP extensions necessary to drive your business.
How to ensure you make the best use of the Netvoice service
You will have an IP phone for each work station contracted. The phone lets you make and receive calls and take advantage of all of the functionalities offered by the Netvoice service.
Each user can access the mynetvoice portal using their individual profile. This lets you set up and manage your own customised rules, such as call forwarding, voicemail, call queueing, and more.
Your company's switchboard manager will have administrator's access to mynetvoice which, in addition to letting them view and change the rules for each switchboard operator, also allows the setting up and management of your corporate voice functionalities, such as service groups.