Ar Telecom is a Portuguese telecommunications and information technology provider, part of the Grupo Aire, which is today one of the largest telecommunications operators in Spain.
It is dedicated to the commercialization, provision, and operation of the wholesale supply of electronic communications services and related services, namely information and communication technology services.
The wholesale offer is designed for national and international communications operators.
Grupo Aire is a group of telecommunications companies that offers connectivity, VoIP, Mobile Enabler, UcaaS and Cloud services to operators, companies and public organizations, in order to accompany them in their digital transformation processes.
It is a consolidated service provider in the national and international market, leader in the IT sector in the Iberian Peninsula.

+ 33.000
km backbone network


+ 1000
interconnection agreements


Our high-capacity NG-DWDM network is developed with state-of-the-art technology, ensuring speed, performance, and flexibility in service delivery. We continually invest in new infrastructures with which to expand and improve geographic coverage, making the Aire Networks network one of the largest networks in Spain with 32,000 kilometres and a growth capacity of N * 400 Gbps.
Our network is designed with strict quality standards, complying with current telecommunications regulations. We are so sure of the quality of our network and services that we can offer our clients SLAs above market parameters.
Currently, the Aire Networks network is in the process of MEF 3.0 certification to offer standardized, agile, secure and orchestrated communication services that allow customers dynamic performance and the security required to prosper in the digital economy.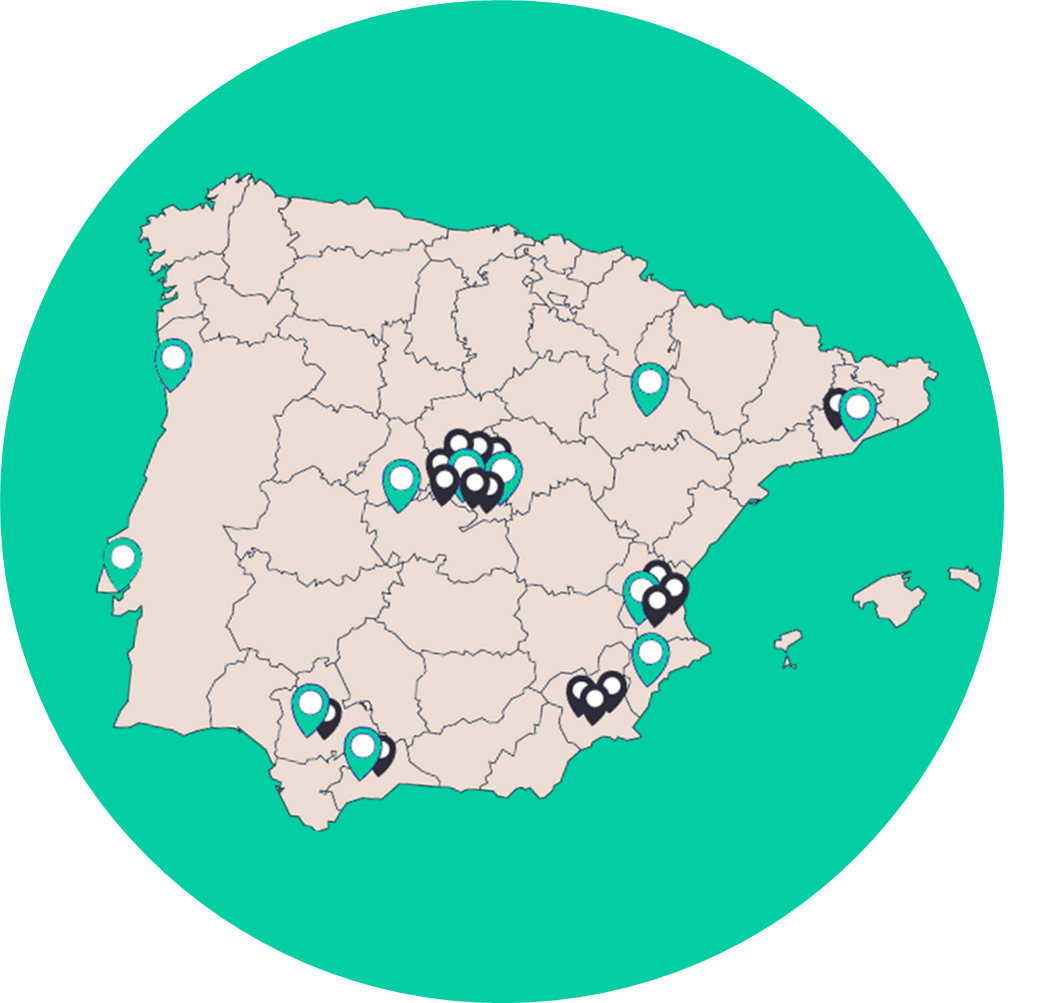 We are TIER 2, we have a national and international network with more than 20 neutral centres located in Alicante, Barcelona, Cádiz, Madrid, Malaga, Murcia, Seville, Valencia , Zaragoza and Lisbon; as well as four international centres located in the United States, the Netherlands, the United Kingdom and Germany, connected to the main points of exchange for national and international traffic: AMS-IX, LINX, DE-CIX, EQUINIX and ESPANIX, interconnecting directly with more than 7,500 different networks globally allowing us to offer optimal peering.
All our CPDs offer the same services, because they are integrated into the Aire Networks ecosystem. Our Autonomous System is in the Top 100 for IPv4. It links to 80% of the most important Tier 1 on the planet and has more than 1,000 private traffic exchange agreements with the main nodes.

IP transit
On-net
Transit backup
Point to point
Dedicated direct access
Virtual private LAN
Fiber business

SIP trunk
Virtual PBX
Termination
Numbering (nomadic, shared cost, toll free and premium)

Co-location
Bare-metal servers
XaaS